KitchenAid Heavy Duty Mixer - Port Elizabeth
Wednesday, 9 March 2016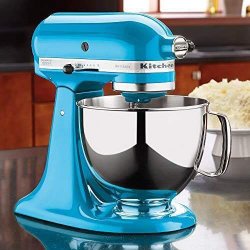 Item details
City:
Port Elizabeth, Eastern Cape
Contacts

kelly
Item description
KitchenAid Heavy Duty Mixer
The Lift Stand Mixer with 4.8 L heavy duty bowl is a professional tool ideal for heavy mixing that features a removable 4.8 L stainless steel bowl. It can mix and prepare with ease and, together with the variety of optional attachments, it will enrich your creativity in the kitchen. Thanks its metal construction, it ensures durability, reliability and professional results for long life.
Full metal construction, robust, stable and durable
Direct drive silent, reliable and long lasting
Original planetary mixing action fast thorough mixing
Single attachment hub ease of use and versatility
TECHNICAL SPECIFICATIONS
Wattage315 WMotor typeAC (Alternating current) with Direct DriveHorse power0,26 HPVoltage (V)220 - 240Current (A)Not availableFrequency (Hz)50/60 HzMax. rotation speed265Min. rotation speed60Bowl capacity4,8 LSpeed control typeHybrid electronicHeight of the product411Width of the product338Depth of the product264Height of the packed product590Width of the packed product390Depth of the packed product310Net weight (kg)12Gross weight (kg)13,4Max flour advised1 kg (8 cups)Pie crust: grams of flour500 gEgg white12 eggs (medium)Whipped cream1 LCake2,7 kgBread dough (stiff yeast dough = 55% Absorbtion ratio)2 kgMashed potatoes3,2 kgCookies (standard 5.1 cm - 2 inch cookie)108 units (9 dozen)

INCLUDES:

KITCHEN AID MIXER 5KPM5
KitchenAid Wire Whip

KitchenAid Dough Hook

KitchenAid Quard (4.8 L) Stainless Steel Bowl

Pouring Shield

KITCHENAID FOOD GRINDER
MODEL 5FGA

SAUSAGE STUFFER
MODEL 5SSA
If you have any questions please email
THANKS FOR LOOKING!