Beautiful peacocks and peahens for sale. - Port Elizabeth
Wednesday, 20 May 2015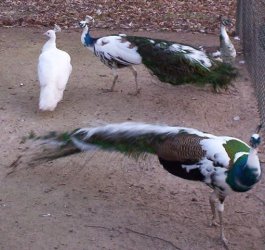 Item details
City:
Port Elizabeth, Eastern Cape
Contacts

Gillette
Item description
We have beautiful peacocks and peahens for sale.They are 10months old and are feeling rather grown up as they are displaying their little tails to all and sundry!
They are totally free-range and will hand feed.
Peacock, peahen, peafowl hatching eggs available as my incubator is full, I have mainly Indian blues and white peacock, green, pied and many more so a possibility of pied chicks. I have a limited amount and for a limited period.